Chidananda S (name changed), an accounts manager in a private firm in Chitradurga, thinks twice before flashing a smile. His teeth are permanently stained brown due to excess fluoride content in the water that he and his family consume. He has dental fluorosis and is also a potential case for skeletal fluorosis. The 29-year-old is unable to get a bride.
Regions contaminated by fluoride have crystalline basement rocks and sedimentary aquifers that undergo ion exchange, contaminating the groundwater table without any human intervention. With borewells being sunk deeper in order to strike water, fluoride eventually seeps into drinking water and affects human health.
In Karnataka, geogenic (naturally occurring) fluoride contamination of groundwater has been a major challenge to the supply of safe drinking water. Data released by the central ministry of drinking water and sanitation show Karnataka has 365 fluorideaffected habitations, the most in south india and the fourth highest in the country. Rajasthan tops the list with 5,143 affected habitations, followed by West Bengal (1,263) and Bihar (781). Data with the state rural development and panchayat raj department puts the number of fluoride affected habitations at 565.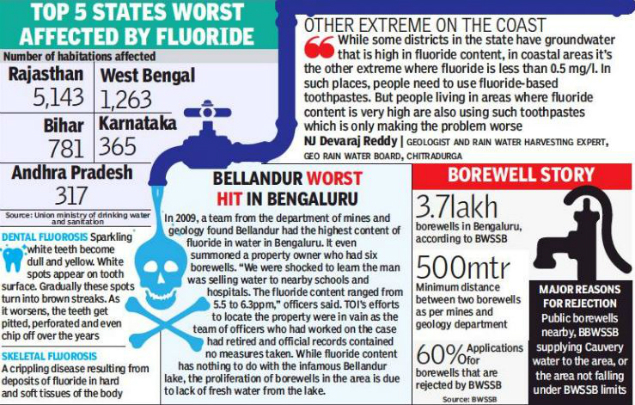 Water normally contains 1 ppm (parts per million) of fluoride [sic]. Consuming water that has fluoride concentration above 1.5 mg per litre can cause dental fluorosis. If the concentration is higher, it can lead to skeletal fluorosis which can render people physically handicapped. It increases pitting in milk teeth and leads to tooth loss. Dental fluorosis is the first symptom and in many cases the disease leads to skeletal fluorosis — swollen legs which limit movements of those affected.
Kolar, Dharwad, Haveri, Tumakuru, Chitradurga, Gadag and Ballari districts are all affected by fluoride-rich water. In Tumakuru district, there are pockets where cattle affected by skeletal fluorosis struggle to even stand. Data from the health department shows over 6.2 lakh people suffer from fluorosis in Karnataka. Indiscriminate use of groundwater, thanks to rampant urbanisation, is the major culprit.
In 2012, the department of mines and geology made it mandatory for people to obtained permission from the water board (BWSSB for Bengaluru) to drill new borewells. This was to check exploitation of groundwater. But the sector still lacks regulation.
"A geographical issue which has worsened with rampant borewell digging is now a public health hazard," said NJ Devaraj Reddy, geologist and rain water harvesting expert, Geo Rain Water Board, Chitradurga. "Youngsters suffering from dental fluorosis are unable to get married. They may be educated and earning well, but command no place in the marriage market. Cases like this are only increasing in Chitradurga, Ballari and Gadag districts."
Researchers say fluoride is found even at depths of 100-150 feet in places like Dharwad and Haveri. Reddy says that lack of awareness on the perils of over-dependency on borewell water is a huge problem to tackle. "Fluoride has penetrated everywhere," Reddy said. "During our research in 2016-17 in Pavagada, Tumakuru, we found that the chemical was present even in breast milk." He said rainwater harvesting is the only solution to the menace.
A Subbaraj, regional director, Central Ground Water Board, said there is a need to shift to naturally available freshwater. "Micro irrigation adaptation can prevent use of fluoride contaminated water," said Subbaraj.
*Original article online at https://timesofindia.indiatimes.com/city/bengaluru/with-365-affected-habitations-karnataka-is-4th-worst-fluoride-contaminated-state/articleshow/68249606.cms