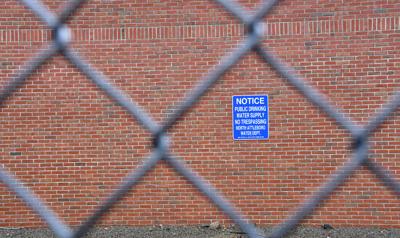 ---
NORTH ATTLEBORO — You may want to spend a little more time flossing and brushing if you use the town's water supply.
The Department of Public Works informed water customers this past week that supply shortages have forced it to suspend fluoridation of the town's water supply for the time being, possibly through the end of the year.
The DPW website announced that "due to a nation-wide shortage of sodium fluoride, we will not be able to continue to treat the drinking water from our Treatment Facility with fluoride for some period of time."
Fluoride is added to public drinking water supplies to strengthen teeth and prevent cavities. But, as the website points out, it is not required for water purity or safety. "Other chemicals necessary to keep town drinking water safe are not in short supply," it states.
Mark Hollowell, director of public works, said he posted the notice after meeting with the board of health.
"The company that the town contracts with for sodium fluoride has notified the Water Division that we will not be able to receive deliveries of fluoride until the end of December," the statement says. "The Water Division will resume the treatment and notify residents when fluoride is reintroduced. Residents who may have concerns should contact doctors, pediatricians, or dentists."
Other communities in Massachusetts have reported similar shortages. Last month Natick said it was running low on sodium fluoride, the same compound North Attleboro uses. Natick reported that it was able to borrow some capacity from the neighboring town of Wellesley.
Attleboro, which also fluoridates its water, uses a different chemical, hydrofluosilicic acid, to treat the water supply. According to Kourtney Allen, the city's water department superintendent, Attleboro has seen no interruptions in its supply of the chemical.
"There are several chemicals in use in the drinking water treatment field that can be used for fluoridation, and there are no shortages for the one we use as of yet," Allen said in an email. "That being said, should a shortage of our chemical occur, we can operate the system without it if needed."
Mansfield and Seekonk, the only other two communities in The Sun Chronicle coverage area that fluoridate their water, did not respond to requests for comment for this story. However, their water department websites do not flag any problems, other than noting that their water supplies are treated. They don't state what chemicals are used.
North Attleboro has been fluoridating its water for more than 20 years since a 2000 referendum that, following a contentious campaign, got 57 percent support from voters.
The state classifies North Attleboro as "partially fluoridated." The water department said recently that that blending of water from various sources reduces the concentration of fluoride in the overall supply to below recommended levels. The public works department has plans to add fluoridation equipment to proposed new facilities that the town council has approved to treat town water for PFAS chemical contamination.