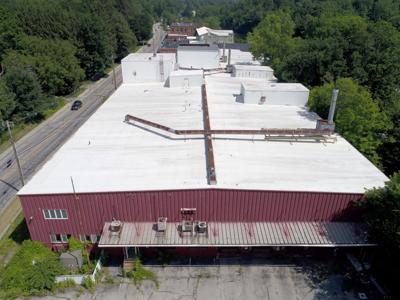 BENNINGTON — A $34.15 million settlement agreement won final court approval Monday, ending a class-action suit filed in 2016 over widespread chemical contamination of hundreds of drinking wells in Bennington.
U.S. District Court Judge Geoffrey Crawford approved the settlement, under which Saint-Gobain Performance Plastics – the last operator of former ChemFab Corp. plants in town – agreed to pay $26.2 million to property owners affected by PFOA (perfluorooctanoic acid) contamination, which the state determined had spread from the factory exhaust stacks.
The agreement also requires Saint-Gobain to provide up to $6 million for continued medical monitoring for individuals who drank contaminated well water and now have higher than normal levels of PFOA in their blood.
'TRAUMATIC' EXPERIENCE
"I'm very pleased with this settlement," said attorney David Silver, of Bennington, one of a team of lawyers who represented the plaintiffs. "I can tell you, it's been very personal for me. I live in the [PFOA contamination zone]. All my neighbors are class members. And I've lived in the zone for 30 years."
For those who discovered they had contaminated properties and drinking wells, "I've seen firsthand how traumatic that was for them," he said.
Silver said residents were struck by fear for their health if they drank contaminated well water, and for the affects on the value and continued use and enjoyment of their properties.
The contamination in soil, groundwater and wells was discovered in 2016, after similar pollution had been identified in nearby Hoosick Falls, N.Y., water supplies.
The ChemFab factory in North Bennington and an earlier Bennington plant were identified by the state as the source of the contamination. The last facility was closed by Saint-Gobain in 2002 and the operations were shifted to Merrimack, N.H.
"I'm happy we are getting some compensation for that, and some closure, and that they can move on," Silver said of those affected by the pollution.
Plaintiffs' attorney Emily Joselson, of Langrock, Sperry & Wool, of Middlebury, said the settlement "provides significant money compensation to the owners of the approximately 2,365 residential properties in Bennington and North Bennington contaminated with PFOA … and for the first time in Vermont, the settlement also establishes a 15-year medical monitoring program, to be paid by Saint-Gobain."
PLAINTIFFS REACT
"Yesterday's [court] hearing was an opportunity for me to look back over the past six years, to the day that I got a phone call while out of town at a meeting with the shocking news of the results from the first water tests," said James Sullivan, the class representative listed first in the class-action lawsuit.
Sullivan, who lived downwind of the North Bennington ChemFab plant, recalled the "early coordination with the [Vermont Department of Environmental Conservation] staff, who came down to meet with local officials and help arrange emergency water supplies, neighborhood meetings to brainstorm about how we could respond to the crisis; the frequent public forums; years of drinking bottled water and dealing with new water filtration systems; and, of course, blood tests and learning about the lingering threat to our health."
"I'm delighted the settlement has been approved so this years-long saga is over," said Lora Block, whose home is in the zone. "The lawyers who fought for those of us with contaminated water did a terrific job over all these years, so I'm very thankful to them. I'm glad we came to a settlement instead of having to fight in court, which would have taken many more years and could have ended badly if we'd lost."
"As one of the class representatives, I am pleased with the settlement," said resident Bill Knight. "Our legal team has worked tirelessly to negotiate a fair settlement with Saint-Gobain."
While agreeing to the payments, the company did not admit liability in the settlement, and the claims against it were dismissed as part of the final approval order.
Peter Clark, communications manager with Saint-Gobain, said in an email, "Saint-Gobain is pleased that Chief Judge Crawford granted final approval of our settlement in Vermont and that this case has been resolved."
CLAIMS STILL POSSIBLE
The medical monitoring program, which will continue for up to 15 years, was sought by the plaintiff attorneys to monitor for diseases associated through studies of PFOA exposure, including kidney, testicular and other cancers, ulcerative colitis, thyroid diseases, pregnancy-induced hypertension and high cholesterol.
Levels of PFOA in the blood are also known to decline slowly over many years. More than 500 people were found to have elevated levels of PFOA during an initial round of testing after the contamination was discovered in local wells.
More than 2,300 properties are in the contamination zone of concern identified by the state. Property-related damages sought in the suit included for negative impacts on property values and other losses related to the pollution.
The attorneys said those who have yet to file a claim but believe they might qualify should apply online at the website, benningtonvtclassaction.com, or call Silver's office at 802-442-6341 if they have questions.
Claims can be filed through Aug. 22, according to the approval order. A free blood test for PFOA levels can be obtained through the medical monitoring program.
CLAIM WORKSHOPS
In addition, Silver said two workshop sessions have been scheduled at the Bennington Firehouse meeting room on May 26 and June 9, both from 5:30 to 7:30 p.m., when people can seek assistance in filing a claim for damages.
Distribution of payments to those in the property class will be reviewed by a court-approved special master, John Schraven, an experienced mediator who also had served as suit settlement master, beginning April 2017.
KCC Class Action Services, LLC, was designated the property settlement administrator for the property class portion of the settlement.
TOWARD A SETTLEMENT
An initial agreement in principal was reached in July 2021 and a proposed final agreement was announced in November, pending final court approval, which was posted Monday in U.S. District Court in Rutland.
The medical monitoring program will be supervised by a court-approved administrator, Edgar Gentle III. The program will provide testing and monitoring for certain medical conditions and will be based at Southwestern Vermont Medical Center using local physicians.
Arrangements will also be made for eligible class members who have moved away.
"While no settlement is going to be completely satisfactory to everyone, we feel that we have been well represented and have achieved a fair and reasonable outcome for affected residents and for the community at large," Sullivan said in an email. "Those of us in the exposure class (with elevated levels of PFOA in our blood) are eager to begin the medical monitoring program that has been set up as part of the settlement and everyone appreciates the compensatory payments that were negotiated to address property and quality of life issues. It is time to put the legal process behind us and to begin the next phase of our lives."
OTHER PROVISIONS
Other settlement details approved by Crawford included attorney fees for the three firms representing the plaintiffs, including Joselson and James Swift of Langrock, Sperry & Wool, and Gary Davis and James Whitlock of Davis & Whitlock, of Asheville, N.C.
Silver is with the firm Barr, Sternberg Moss Silver & Munson of Bennington.
Crawford said in his written decision that the amount of attorney fees was approximately 19 percent of the damages awarded. "The court finds that these fees are well below the 25 percent benchmark in courts in the Second Circuit," he wrote.
The judge noted that plaintiff attorneys logged more than 20,000 hours in litigation over the five years of the suit and lengthy settlement negotiations.
'SUPERB' TEAM
"I have to say that the legal team I worked with was superb," Silver said Tuesday. "Not only were they great people, but they are great lawyers … It's not often that small firms take on a huge multi-national corporation, with basically limitless funds, and you prevail. It took a long time; there were a lot of low points along the way, but we persevered and we wouldn't let them beat us down, and eventually we brought them to the settlement table."
He added that his firm and Joselson's firm have fielded hundreds of suit-related phone calls over the past few months, "and it's given me a deeper appreciation of how significant and how positive the impact of this settlement is on the community."
The settlement also provides an award of $10,000 for each of the eight named plaintiffs, acting as representatives of the class, including Sandy Sumner, who died in 2021. The funds will be paid to his estate.
LONG-CLOSED PLANTS
The ChemFab factories on Northside Drive, where the company formed in 1968, and on Water Street in North Bennington, coated fabrics such as fiberglass with liquid Teflon, which was manufactured with PFOA.
The products were dried at high temperature and the state determined that the contamination was distributed through the air to soil in the surrounding area, where it worked into groundwater and hundreds of wells. Saint-Gobain acquired ChemFab in 2002 and moved the coating operations to New Hampshire two years later.
Saint-Gobain also previously agreed after negotiations with the state to two consent agreements that provided more than $50 million to extend Bennington and North Bennington water system lines to some 445 properties with wells contaminated with PFOA, and to cover other expenses borne by the state in dealing with the pollution.