A health authority tried to illegally force the fluoridation of Southampton's water, the High Court has heard.
Resident Geraldine Milner is taking legal action to challenge the decision made in 2009 by the South Central Strategic Health Authority (SCSHA).
The SCSHA, which believes the move will improve dental health, gave the go-ahead despite a public consultation showing 72% opposed the idea.
The judicial review will decide if SCSHA properly considered the views.
Ms Milner's counsel David Wolfe told a judge that, if the scheme goes ahead, the mother of three teenagers would be left "with no choice but to drink water to which fluoride has been added".
As opponents of fluoridation demonstrated outside the Royal Courts of Justice in London, Mr Wolfe said approximately 195,000 people in Southampton and parts of south-west Hampshire "would have fluoride added to their water whether they liked it or not".
'Legal obligation'
He told Mr Justice Holman this was contrary to government policy that no new fluoridation schemes should be introduced unless it could be shown that the local population was in favour.
The SCSHA used statutory powers to instruct Southern Water, the local water provider, to go ahead with fluoridation in February 2009 to improve dental health.
The decision came after 72% of those who responded to a public consultation opposed fluoridation, with just 28% in favour.
An opinion poll commissioned by the SCSHA produced a narrower result, with 38% against the scheme and 32% in favour and 29% "don't knows", the court heard.
Mr Wolfe accused the SCSHA of failing in its legal obligation to properly assess the cogency of the arguments for and against mass fluoridation.
He said the application for judicial review was not about the actual merits and health arguments over fluoridation.
It was about the legality of the compulsory scheme, the first of its kind in the UK for 20 years.
Mr Wolfe said: "Four out of five local authorities and three out of four local MPs expressed their opposition within the consultation process.
"Ms Milner is in good company, whether she is right or wrong."
The health authority is opposing Ms Milner's legal challenge.
The hearing continues.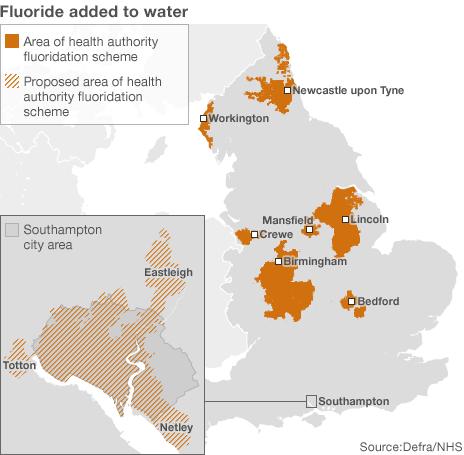 ---
The BBC is not responsible for the content of external sites.
---