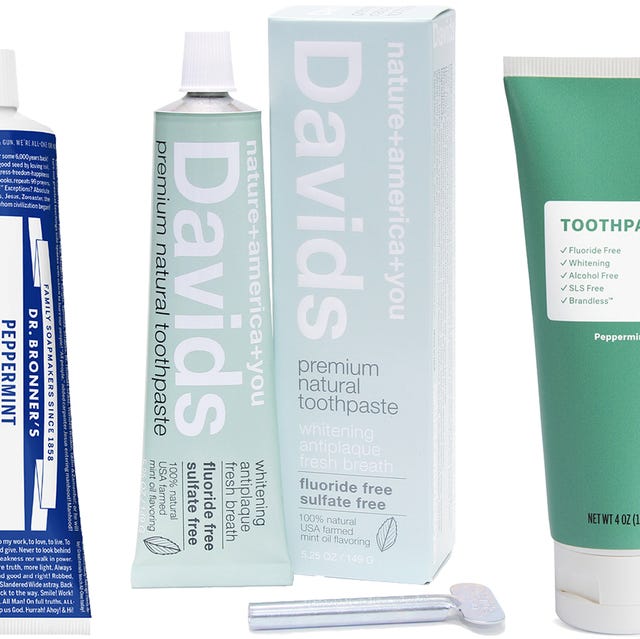 Considering it goes in your mouth two or more times a day, it's probably a good idea to consider the ingredients in your toothpaste. Natural and organic versions have come a long way in the last five years. Though they don't contain parabens, fluoride, sulfates, triclosan, or other nasty ingredients, these 10 formulas are every but as minty, refreshing, whitening, and protecting as the one currently on your vanity. Switching to one of these editor-approved natural and organic toothpaste is probably the easiest step you can take toward a cleaner beauty routine.
1
Fluoride Free Peppermint Toothpaste
At only $4, this natural toothpaste is so good you're bound to reorder it again and again until you eventually just subscribe.
2
Davids Natural Toothpaste
A favorite in the clean beauty community, Davids toothpaste is also a win because of the sustainable packaging.
3
Fluoride Free Antiplaque and Whitening Toothpaste
Hello Oral Care
amazon.com
This $3.99 antiplaque and whitening toothpaste uses tea tree oil and coconut oils to keep your teeth and gums healthy.
You know every single ingredient in this toothpaste: water, glycerin, hydrated silica, peppermint oil, spearmint oil, wintergreen oil, green tea leaf extract, cucumber fruit extract, and menthol.
5
Peppermint All-One Toothpaste
With 70% organic ingredients, this toothpaste is free of fluoride, artificial flavors, sweeteners, and synthetic foaming agents.
6
Rapid Relief Sensitive Mint Natural Toothpaste
Tom's of Maine
target.com
If you cringe at the sight of ice cream, this toothpaste blocks exposed pathways to nerves for instant relief of sensitivity.
7
Purely White Toothpaste
This Burt's Bees Purely White toothpaste is free from everything you want—parabens, microbeads, sulfates, sweeteners, dyes—and is available at nearly every drugstore.
This coconut oil-based toothpaste uses hydroxyapatite, a natural mineral and fluoride alternative found that helps to strengthen and repair enamel.
9
Plant-Rich Toothpaste 3-Piece Set
A trio of three natural toothpastes that address all oral care issues like sensitivity and surface stains.
10
Schmidts Wondermint Toothpaste (2-Pack)