Africa
---
2022 – Fluoride contamination of groundwater resources in Ghana: Country-wide hazard modeling and estimated population at risk., by Araya D, Podgorski J, Kumi M, Mainoo PA, Berg M. Water Research, January 17.
---
2022 – Gevera PK, Cave M, Dowling K, Gikuma-Njuru P, Mouri H. Potential fluoride exposure from selected food crops grown in high fluoride soils in the Makueni County, south-eastern Kenya. Environmental Geochemistry and Health.

Figure 1:
---
2022 – Mulualem D, Hailu D, Tessema M, Whiting SJ. Association of Dietary Calcium Intake with Dental, Skeletal and Non-Skeletal Fluorosis among Women in the Ethiopian Rift Valley. International Journal of Environmental Research and Public Health 19(4):2119.
2021 – Habiyakare T, Schurer JM, Poole B, Murcott S, Migabo B, Mardochee B, Amuguni JH, Morgan JP. Dental fluorosis among people and livestock living on Gihaya Island in Lake Kivu, Rwanda. One Health Outlook 3(1):23.'
Excerpt: Oral evaluation

Nearly all (90.7%) children had signs of dental fluorosis, with most (77%) categorized as moderate to severe (Fig. 1). There was no statistical difference in prevalence between males and females (Table 1). When asked if they were satisfied with their tooth appearance (yes/no), three quarters (74%) of children answered in the negative. The prevalence of fluorosis among livestock was 76% and varied significantly (p– value < 0.001) between goats (89.2%) and cattle (17.3%). Only mild fluorosis was present in cattle. Mild and moderate fluorosis was present in goats.
---
2000 – Miranda-Rius J, Brunet-Llobet L, Lahor-Soler E, Mrina O, Mashala EI, Mahande MJ. Periodontal and dental conditions of a school population in a volcanic region of Tanzania with highly fluoridated community drinking water. African Health Sciences, 20(1):476–487.
---
2018 – Menya D, Maina SK, Kibosia C, Kigen N, Oduor M, et al.  Dental fluorosis and oral health in the African Esophageal Cancer Corridor: Findings from the Kenya ESCCAPE case-control study and a pan-African perspective. International Journal of Cancer. December 23.
Excerpt:
…In conclusion, poor oral health in combination with, or as a result of, high-altitude susceptibility to hydro-geologically influenced dental fluorosis may underlie the striking co-location of Africa's esophageal cancer corridor with the Rift Valley. The findings call for heightened research into primary prevention opportunities of this highly fatal but common cancer.
---
2017 – Rango T, Vengosh A, Jeuland M, Whitford GM, Tekle-Haimanot R. Biomarkers of chronic fluoride exposure in groundwater in a highly exposed population. Science of The Total Environment596–597:1-11.
Graphical Abstract:

---
2017 – Malago J,Makoba E, Muzuka ANN. Fluoride Levels in Surface and Groundwater in Africa: A Review. American Journal of Water Science and Engineering 3(1):1-17.
Excerpt: In Africa, high fluoride levels have been reported mostly in the Great East African Rift Valley which extends from Jordan valley down through Sudan, Ethiopia, Uganda, Kenya and Tanzania [31] (Fig. 1). Ghana, Malawi, Nigeria, Algeria and the Republic of South Africa have also been reported to have high fluoride levels [41] (Fig. 1).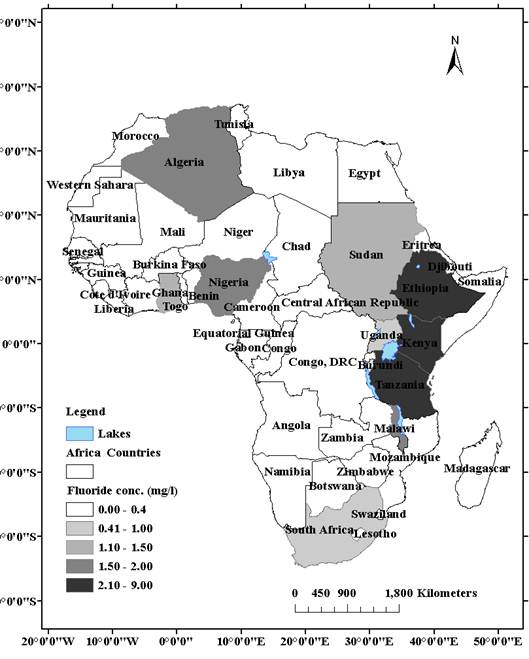 ---
2014 – WHO: Chemicals of public health concern in the African Region and their management: Regional Assessment Report. World Health Organization. July 4.
---
1989 – OPINYA GN, MBURU DN, BIRKELAND J, LOKKEN P. Fluoride content and intake by infants and toddlers from commercial infant formulae and cereals in Kenya. Discovery Innovation 1(1):91-94.
Excerpt:
A total of six infant formulae and eight cereals were analysed for fluoride using a fluoride ion electrode. The infant formulae had a fluoride content which varied form 4.4 to 5.5 ppm. The fluoride in the cereals varied from 4.5 to 5 ppm. The total fluoride intake was calculated using the feeding quantity instructions given by the two manufacturers, Nestle Food Specialities and House of Manji on the labels of the formulae and cereals.
---
Note: We will be adding more studies to this section