The deep divide in the community over water fluoridation has been reflected in replies to a questionnaire from Fluoride Free Northern Rivers to all Lismore City Council mayoral candidates.
Each candidate received a score from 1 to 6 on how they would vote if motions were put forward on a range of fluoride issues in the next council.
FFNR spokesperson Leisa Webb said the questions ranged from fluoridating the Nimbin water supply to suspending the operation of the dosing plants under various scenarios, such as reviewing the Corndale plant breakdowns
'Two further questions on whether to halt funding Rous Water for fluoridation and support for a referendum at the next election were also asked,' she said.
'In collating the results two conservative candidates Gianpiero Battista and a Mayoral favourite Neil Marks each scored zero. Cr Marks responded by saying "Your questions are now irrelevant…..no longer in the realm of local government in the Lismore LGA".
'The alternative conservative Greg Bennett scored 6 on the grounds "purely as a rights issue I believe people have a right to choose whether they consume this chemical or not".
'Big Rob scored 2 stating generally on suspending plant operations that he "…cannot respond without further information."
Vanessa Ekins from the Greens scored 6 saying she was ''prepared to move such motions" (to suspend the operation of the dosing plants and for a referendum).
'Labor's favourite son, Isaac Smith, broke with former Mayor Jenny Dowell to score 5 out of 6.
'He lost a point because he did not support a referendum believing it to be to divisive in the community.
'The survey results indicate that there may well be a realignment of the council numbers to it's historical stance of actively opposing water fluoridation for Lismore.
'If the electorate votes or preferences anti fluoride candidates Isaac Smith, Vanessa Ekins or Greg Bennett for Mayor, the balance in the council may definitely swing in favour of councillors opposed to fluoridation.
'Except for Cr Dowell, no other mayor, whatever political persuasion, had ever supported Lismore to be fluoridated.
'We very much welcome Isaac Smith's strong support if elected to help get the fluoride out of our water supply. 'Also Greg Bennett should be especially commended while Vanessa Ekins had shown great courage in the last council and Rous, sometimes against vehement opposition, keeping the fluoride issue on the agenda.
'We encourage voters in this council election, whether conservative or progressively inclined, to support anti fluoride candidates to make Lismore safe again from forced medication given without consent,' Ms Webb said.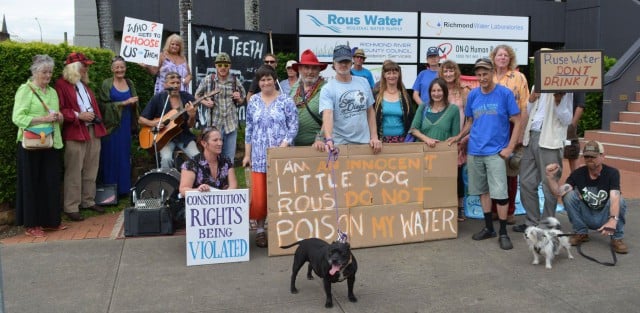 Anti fluoride protesters outside Rous Water. (Picture Robert Hearne)