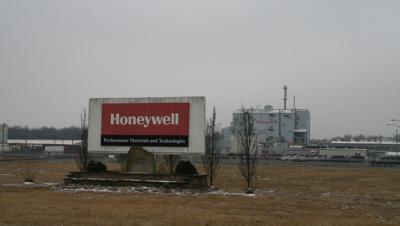 While rumors had been flying around for a couple of weeks, the official word spread quickly Tuesday.
Honeywell intends to reopen the Metropolis Works plant.
"As the only domestic uranium conversion facility, Honeywell's Metropolis Works facility has been an important national strategic asset, well-positioned to satisfy UF6 (uranium hexafluoride) demand both in the U.S. and abroad," said Mike Hockey, Honeywell's director of external communications.
In a statement issued Tuesday, Honeywell plans to restart production at Metropolis Works in early 2023, with preparations beginning this year. Honeywell will hire 160 full-time employees as well as contractors by the end of next year.
"We're proud to bring these jobs back to the Metropolis community to meet the needs of our customers," Hockey said.
"It is especially encouraging to hear this announcement after the difficult economic times we've experienced this past year with the pandemic and with the reports of other potential closures in the area," said State Rep. Patrick Windhorst (R-Metropolis). "I was excited to hear the news that Honeywell's Metropolis facility will be restarting production in early 2023. The addition of 160 full-time jobs will be a tremendous boost to Massac County and the entire region."
Honeywell Metropolis Works has been in a "ready-idle" status with a reduced amount of material on site for three years. In November 2017, Honeywell announced 170 of the 200 full-time hourly and salaried employees were being reduced in the first quarter of 2018 at the Metropolis plant because the nuclear industry at the time was oversupplied with UF6 worldwide and global demand for nuclear fuel had dropped 15%. At the time, demand was not anticipated to rise before 2020, therefore, Honeywell temporarily idled the plant's UF6 production while maintaining minimal operations to support a future restart should business conditions improve.
Meanwhile, Honeywell retained a local workforce of about 23 Honeywell employees and 21 contractors to support minimal operations.
In early 2020, the Nuclear Regulatory Commission renewed the operating license of the Metropolis uranium conversion plant for an additional 40 years with the new license to expire on March 24, 2060.
"Over the past decade, Honeywell has invested $166 million at the Metropolis plant in capital improvements, including $69 million in safety projects," Hockey said. "This allowed the plant to meet tougher earthquake and tornado safety standards and keep good paying jobs in the area. It also means that as we ramp up to restart, Metropolis will meet all applicable safety standards and risk management practices and will be ready to get back to work."
Hockey said site preparation for reopening will start immediately with the filling of approximately 25 full-time roles this year in addition to 30 contractor roles to support planning and readying the site for full production in early 2023. All remaining positions will be filled in 2022.
"This is exciting news for Massac County," said county commissioner Jayson Farmer. "We're looking forward to Honeywell starting up production. Honeywell's always had a great partnership with the community."
Metropolis Mayor Billy McDaniel was notified of the news Tuesday morning from the company's government relations representative in Washington, D.C.
"After a year of devastation due to COVID and the downturn of the economic situation of the community, I think it's a great thing," McDaniel said. "I think there's a lot of positive — they intend to do some hiring immediately and then be in full operation by 2023 with 160 full-time, well-paying jobs. It will put a great economic boost back into our community."
State Sen. Dale Fowler (R-Harrisburg) said the reopening will also help boost the economy and create much-needed job opportunities in southern Illinois.